Bird of Paradise Bouquets
Fresh Cut Bouquets in Los Angeles
Have you ever heard about the bird of paradise? It's an exotic flower that our florists arrange in gorgeous tropical flower arrangements. If you are tired of classical bouquets, you can always pick something new and unique such as this beautiful tropical flower.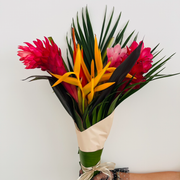 Bird of Paradise is a Hawaiian flower that represents magnificence and love, and usually grows in the wild. It's got its name from the shape of petals orange and blue that look together like a tropical bird flying in the jungle.
Giving someone a bird of paradise flower bouquet is giving luck and positive altitude in the future. It is always a good romantic gift for a date or to congratulate someone with birthday. It is also known as the flower for 9th wedding anniversary.
This beautiful blossom blooms from March to October and is a popular flower for summer flower bouquets.
A cut bird of paradise lasts for a long time – almost two weeks and is needed to be trimmed every two or three days when you change the water for it. With the right care, you will enjoy a bird or paradise floral arrangement for long time.
However, how exotic and beautiful this bloom be, it could be toxic to the animals and children. Try to put it somewhere where they don't get it and you can enjoy this beauty safely.
Birds of Paradise Flower Delivery
Art Flowers LA provides exotic bouquets including bird of paradise bouquets. It's easy and fast to place an order on our website and you can always call us at (310) 817-0605 or visit our flower shop to order the flowers.